We will work several different styles of writing over the course of the year. As the year goes on check here for the current writing project guidelines and information about each style.
We use Process Writing in our class. The steps are:
1. Prewriting
2. Drafting
3. Revising
4. Editing
5. Publishing
Click here to go to the ABC's of the Writing Process Website

Persuasive Writing
During the first week or so of school you will produce a persuasive writing piece completely on your own, without teacher help. This will be used as a starting point for our persuasive writing unit. You will also receive the same persuasive prompt at the end of the year so you can compare your beginning of 5th grade work to your end of 5th grade work.
Here are some sites that might help you better understand persuasive writing: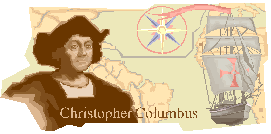 Click here to go to our Columbus persuasive writing project instructions and rubric.

Grammar:
Punctuation: