Social Studies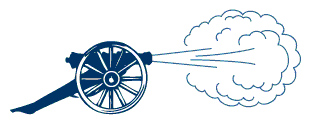 Students may earn Social Studies extra credit by attending reenactments and living history demonstrations. Currently there are three opportunities for extra credit. Click on the links below to jump to the event you want more information about. Events will be listed as I find out about them, check back from time to time!


General Assignment For All Reenactments:
1. Go to the event and talk to the various reenactors that you see.
2. Write down some key information (outlined below).
3. Hand in the paper with your information on it when you get back to school after the event.
For every reenactor you speak to you will receive 5 points IF you have all of the proper information written down. Talk to people from different units, for example: not 6 people from the same unit. Points will be added to your lowest Social Studies grade.
Information you MUST have in order to get credit:
1. Personís name
2. Name of personís unit
3. Personís rank (Ladies will not have a rank. That is ok)
4. What job does that person do in their unit?
5. At least one new thing that you learned about life in the 1860ís or the Civil War (or the Revolutionary War, or whatever era is being shown at the event)
There will be all kinds of special events taking place during the event. There may be a fashion show that explains the clothing of the era. There will also be concerts by authentic bands. Some of these bands actually play authentic instruments, such as real bones for percussion. There may be activities for kids at some events as well.
Remember, donít be afraid to approach the reenactors!
Ask questions. They have lots of knowledge to share!