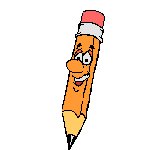 Week of: May 11, 2009
Unit 5, Week 5 Theme: Whales
1. impress 2. correct 3.elect 4. discuss 5. locate 6. decorate 7. confuse
8. estimate 9. impression 10. correction 11. election 12. discussion 13. location
14. decoration 15. confusion 16. estimation 17. concentrate 18. exhaust
19. concentration 20. exhaustion

Homework Activities: Each week you will be given spelling homework Monday-Thursday nights. These assignments are due back to school the next day, if you don't have them completed you will lose 5 points off your weekly spelling grade. Each night you will have a choice of two assignments, pick one and do your best.
Monday
1. Write each word 4 times in your best cursive handwriting.
2. Put your words in ABC order and write them three times each in a different color.
Tuesday
1. Write your words in ABC order and divide each word into syllables.
2. Make a chart and categorize the words: Nouns, Verbs, Adjectives,and Adverbs.
Wednesday
1. Use a dictionary and write the definition for 14 words from your list.
2. Add your Words: Vowels = $.36 and Consonants = $.42. Write each word and show its value. Show your work!
Thursday
1. Use all of your spelling words un complete sentences. Highlight the spelling words. Check for capitals and punctuation.
2. Make a pictionary. Write the words in ABC order and draw a picture to go with each word.
Follow all directions carefully! Full credit will not be given for incomplete assignments. Be neat! Write the number of the activity at the top of the page. Remember to include a PROPER HEADING on each paper.